We managed to catch Agate in between the European Championship, her Bachelor's thesis defence and her tight training schedule.
Agate comes from Dobele – a small town in the middle of Latvia. According to the ISSF rating, she ranks 9th in the Women's Air Pistol discipline. Agate is just 23 years old and is the first woman from Latvia ever to represent the country in a shooting discipline at the Olympics. Agate shoots 10-meter air pistol and 25-meter pistol. Trained by her coach, Vilnis Celmiņš, she is now on her way to Tokyo to represent Latvia at the 2021 Olympic Games.
Agate sat down for an interview with INTARSO to discuss her road to the Olympics.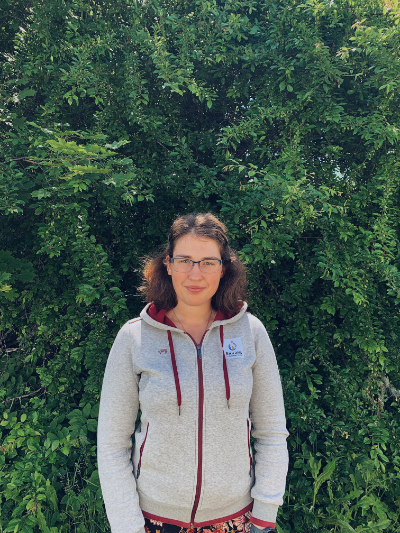 Please describe your journey to the Olympics - when and how did it start?
Agate believes it is a combination of good teamwork and hard work during all the years leading up to the Olympics. She says the ticket to the Olympics is more a result of very hard work than just pure talent.
Already in the junior group, it was clear that Agate had the potential to compete at the Olympics. She showed consistently good results and regularly appeared on the leader board. She remembers that it was hard to move from the junior group to the adults' group, where there are many strong competitors. "It is especially hard if you are used to being in the leadership positions and then suddenly, after the transition, you are no longer in the lead," says Agate. "There is important emotional work that you have to do as an athlete in order to prepare yourself for these challenges and to continue believing in yourself."
Agate qualified for the Olympics in April 2021. She says this was a planned qualification and she worked hard to get it. "Four years ago, together with Coach Vilnis, we learnt how the four-year Olympic cycle worked and understood what exactly we needed to do in order to qualify", says Agate. "Of course, if only that was as easy to do, as it is to decide. Success is about having a plan in place and working hard to achieve that plan."
The aim was clear for Agate – to qualify for the Olympics. The way it came true was a bit different from the way it was planned. However, you cannot always plan everything – the end-result is what matters in this case.
"In 2019 we went to the World Cup in Brazil, where I got to the finals, reached the 5th place in the air gun discipline and earned valuable ratings points. When we swent to the World Cup in India this year, we went with the goal to achieve a high position in the Airgun discipline once again, because at that point, I was second after the line to qualify and I needed to win, in order to get the necessary quotas. Of course, it was not easy, as my closest competitor in that World Cup, a shooter from Belarus, bested me and got the necessary points to get to the Olympics," says Agate.
At that point, I was 9th in the 25-meter pistol distance and we were not really putting as much focus on this distance as we were on a 10-meter Air Pistol. However, I ended up getting to the finals exactly in the 25-meter distance in India – I reached the 4th place and earned the necessary ratings points to qualify for the Olympics.
How did you choose the shooting sport?
"It was very much influenced by the place where I was born and live," says Agate. As you know, shooting is a very traditional sport in Latvia, with long-standing heritage. Shooting is also a historically well-known and traditional sport in Agate's hometown.
"It all started when my brother took me to the range. I was 11 years old then," Agate remembers. "That is when I first learned about shooting." That was also the time when Coach Vilnis Celmiņš created the first air pistol training group, and it was possible to sign up for shooting classes as an elementary school sport. Agate signed up and she has been training with her one and only Coach Vilnis Celmiņš for 12 years already. "So, we could say that our road to the Olympics has been 12 years long," Agate smiles.
How frequently do you train and how has that changed now that you are preparing for the Olympics?
The usual training schedule is about 2 – 3 hours, three times per week, as a minimum. As competitions are approaching, the number of trainings increases to about five per week. Then there are training camps with two training sessions per day and some physical activities also every evening.
"Autumn usually is an off-season in shooting and that is when I focus more on building my physical strength. I enjoy swimming and cycling," says Agate.
Since emotional strength and the ability to hold intense focus are prerequisites for success in the shooting sport, what do you do to increase your emotional resilience?
"I train my emotional resilience by cycling. Doing one monotonous activity for a long time helps me train my focus and prevent external distractions," says Agate. "Also, brain games, for example, a Rubik's Cube is a simple tool to train your focus and the ability to think differently. Of course, each shooting training is also an emotional resilience training in itself, as you have to learn how to deal with your emotions."
Do you have any special rituals before the competition?
"Hmm…, I don't think I have any conscious rituals. But I have noticed that for example, the towel has to be on the correct side when I shoot; if it is not, then I have to fix it," explains Agate. "When I am shooting, it is important for me that everything is in the right order and the way I am used to having it. I like when the monitor is exactly in front of me. But I think these are really little things and it is not like they can knock me off the rails."
How do you deal with the butterflies in your stomach before the competition?
"During the sighting phase, I listen to music. I don't have a particular playlist or song, I usually listen to what I have available. At the start line, I usually practice breathing techniques to calm down and achieve better focus, and this also relaxes my eyes," explains Agate.
What do you do outside of shooting?
Agate just earned her degree in physical education with a speciality in shooting coaching. She always knew that she wanted to study pedagogy and therefore, becoming a sports teacher was just an obvious choice. Currently, and already for a second year, Agate works at the Dobele Sports School as a coach, training the youth in shooting sports.
Do you see that shooting sport has somehow benefited you also in your life outside of the range? What benefits does shooting bring to your daily life?
In shooting, you have to be able to think about several things at once. You have to have the ability to completely shut your mind to the struggles of the outside world and just focus on your task. "I would say that shooting has helped me pull myself together in difficult or complex situations," says Agate. "Because, in shooting, you have to pull yourself together before each shot. It definitely gives confidence and the ability to believe in myself." Agate additionally explained that you also learn not to blame yourself when you make a mistake; you learn how to allow yourself to accept your mistakes as learnings and how to deal with them.
What is the feeling you get when you win?
"Each start is a fight within yourself; you have the feeling that you have managed to do it and that it all depends just on you and your abilities. "The fact that I am alone responsible for my results is great," says Agate. You get the feeling that you are the one in charge of your life. Understanding that is a huge joy and a great feeling," Agate explains.
Which athlete inspires you?
Since 2012, I have admired a Polish athlete, Klaudia Breś and her peers. These girls are three to four years older than I am. During my junior years, I remember looking up to them and admiring their work.
Then there is a Ukrainian shooter, Olena Kostevych, who is a generation older than I am and has competed at the Olympics already. She is a top-class athlete and there is a lot to learn from her.
You are competing at the Olympics now. What's next?
"Still to this day, I sometimes get "the wow feeling" – I am really going to the Olympics," Agate smiles. She has spent the last few Olympics sitting by the TV, following other athletes from the distance, and now she will be there with them. "That's a fantastic feeling to realize that I have made it there."
"The aim is to continue growing, continue training, get better results and qualify again for next the Olympic Games. This is just the beginning of my journey."